Now that we're fully into the throes of 2022, it's time to take a look at what trends are making a comeback in bathroom design.
Your bathroom is a place to unwind and cleanse, depending on the size of the space you have available, there are multiple ways you can make the most of this. Lean into the appeal of a small bathroom with audacious murals and wallpapers or pair natural elements such as wooden accents with monochrome colour palettes, to make a larger bathroom even more spacious.
We took a look at what leading interior designers are talking about for this year's trends and compiled a list of bathroom inspiration so that you can make the best of your next home renovation.
Monochromatic, Earthen and Black Accents
Adding organic fixtures and elements will create a spa-like appeal to the bathroom and add to the 2022 trend of bringing the outdoors inside. Matte black fixtures in particular create a sleek, modern appeal and will work in perfect amalgam with more natural elements. These monochromatic applications work perfectly with earthen colour schemes, combining white, black, blues, green and brown to work harmoniously rather than contrastingly.
Natural Elements and Brighter Lighting
Natural light and a sense of spaciousness are becoming more important as we have collectively been spending more time at home over the past few years. When it comes to renovating, 2022 will see more of us looking to incorporate more natural light through windows and skylights, providing warmth and functionality through greater ventilation in a room that could potentially become stagnant.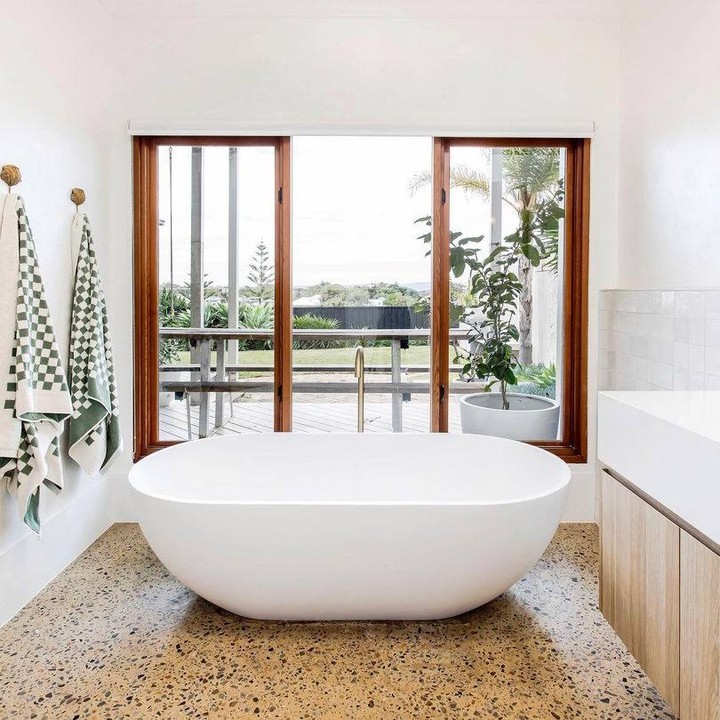 Natural Elements Continued – Plants
Adding plants to the bathroom can create a great finishing-touch. Producing a sustainable approach and tying all the elements together, plants contribute to a spa-like feel and provide a natural means of purifying the air.
A connection to nature also reduces stress and anxiety, making bathroom placement an ideal spot to aid in the end of day unwind.
Freestanding Baths
A freestanding bath just works, whether your bathroom is small or large. By visually extending the bathroom, its sculptural silhouette can create a centerpiece – Plus this ties in perfectly with 2022's trends of natural elements and brighter lights, making your space look and feel bigger.
Vintage and Coastal Furniture
Vintage and coastal pieces add layers of visual interest and function as conversation pieces in the bathroom. Opposites attract and 2022 will see more risk-taking in design, combining the old and the new.
Implement Technology
Organic and vintage design doesn't mean being stuck in the past, technological advances have brought on smart toilets, touchless faucets and smart mirrors.
With Wall-mounted interfaces now providing state-of-the-art technology, equipped with bluetooth, anti-fogging attributes, digital clocks and magnifiers, it's easy to incorporate sophistication whilst keeping it subtle.